SRPC Receives International Socrates Award
The San Roque Power Corporation (SRPC) received the most prestigious International Socrates Award in recognition of its highest level of professional achievement in relation to humanitarian goals, environmental awareness, and business innovation.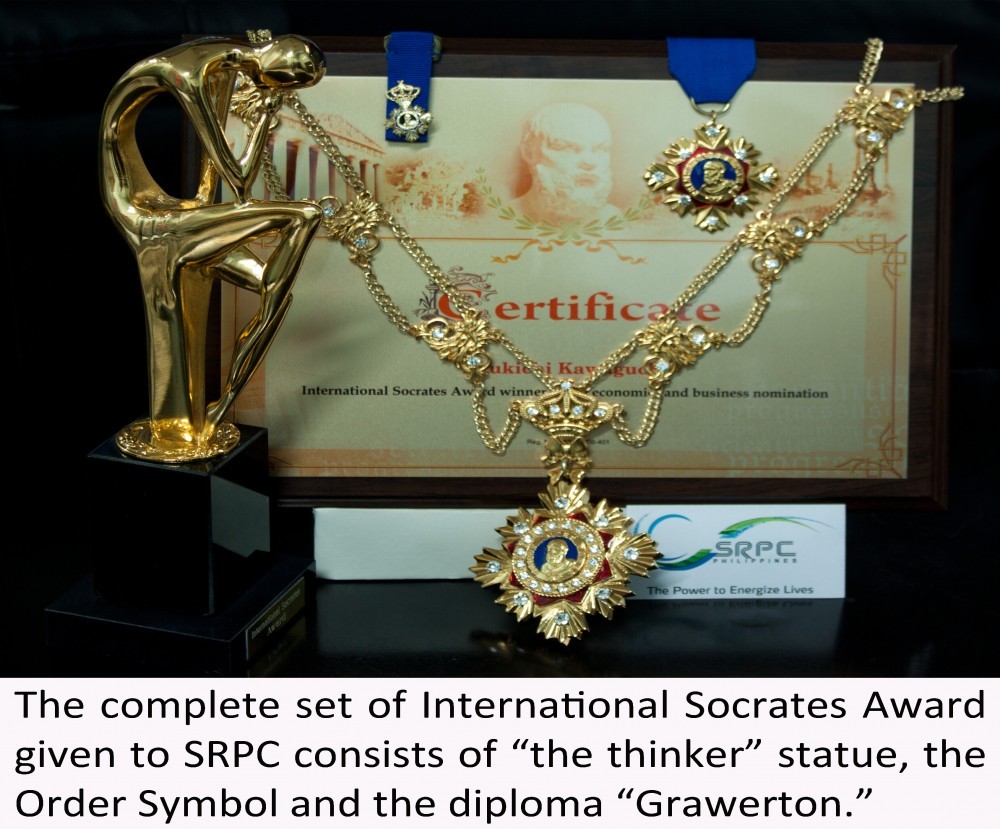 The award came as a result of an analytical assessment by expert analysts of the Europe Business Assembly (EBA) after a year-long research and evaluation followed by a recommendation by the International Socrates Award Nomination Committee.  This committee works in partnership with other business groups that include the European Market Research Centre (Belgium), Baden-Vurtennberg Export Academy (Germany), the Association of Consultants and Marketologists (Czeck Republic), Institute of Quality Standards (Switzerland) and Oxford Academic Society.
The awarding ceremony was held at Oxford Town Hall, United Kingdom on December 15, 2015 during the "Oxford Summit of Leaders" with more than 150 delegates from 40 countries attending.  Due to time constraints, however, SRPC was not able to attend so it availed of the distant participation option and have the award attributes delivered to its Pangasinan office.
The award is a complete set of precious metals that consists of the Order Symbol, a statue, and the diploma "Grawerton."  The Order Symbol is a medal with a Socrates image in profile covered with pure gold (999,9 standard) and encrusted with Swarowski crystals.  The trophy is a statue symbolizing "the thinker" and is also plated with gold.
According to Mr. Tommy Valdez, Vice President for Corporate Social Responsibility, SRPC did not apply for nor did it seek the award.  It just came as a surprise when the International Socrates Award Nomination Committee Secretary wrote SRPC through then President and CEO Ryukichi Kawaguchi with information that SRPC was nominated for the award and inviting the same to the ceremony to accept the award.  Aside from the beauty and elegance of the precious metals, the award brings with it an array of benefits among which could give SRPC a higher level of business profile and an enhanced reputation that could ultimately lead to continued business success.
This is not the only award of prestige bestowed upon SRPC.  A roomful display of plaques and trophies from various local and international organizations can be seen at the Audio-Visual Room of the SRPC.  Among these was the first award in 2003 as Project of the Year given by the Power Engineering International in recognition of the company's advocacy for social and environmental concerns.  The latest awards in 2015 include the Multipartite Monitoring Team Best Practices Award in Region I from the Environmental Management Bureau and Pollution Control Association of the Philippines on November 18; CSR Excellence Award – Education Category from the People Management Association of the Philippines on November 27; and the Award of Merit for Achieving 1,568,588 Safe Man-Hours Without Lost Time Accident from the Safety Organization of the Philippines on December 3.