SRPC Wins Another Award for Sustainability Reporting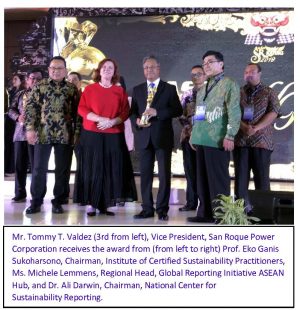 San Roque Power Corporation (SRPC) received Gold Rating for its Sustaining Lives Empowering the Future Sustainability Report from the Asia Sustainability Reporting Rating (ASRRAT) 2019 in Bali, Indonesia on November 23.  The ASRRAT, initiated by the National Center for Sustainability Reporting (NCSR), recognizes companies that communicate their sustainability performance to stakeholders in accordance with the Global Reporting Initiative Standards.
The awarding ceremony was held at the 4th Sustainability Practitioners Conference, which featured presentations of experts and companies on their contributions to the achievement of the Sustainable Development Goals.
This is the second recognition earned by SRPC on sustainability reporting.  The first was a Commendation for Best Practices in Sustainability Reporting in The Philippines from the Sustainability Reporting Awards 2016 hosted by NCSR in Jakarta, Indonesia.