Sustainability Reporting Award 2016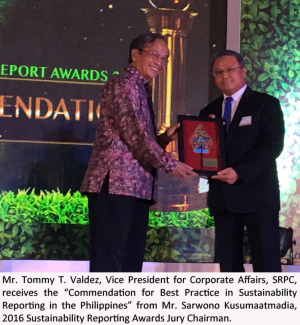 The San Roque Power Corporation (SRPC) has been commended with the Best Practice in Sustainability Reporting in the Philippines by the National Center for Sustainability Reporting (NCSR) during the 12th Sustainability Reporting Awards (SRA) ceremony on December 14, 2016 in Jakarta, Indonesia.
The SRA recognizes and presents awards to companies communicating their sustainability performance through sustainability reports.  The SRPC's commendation was based on its 2014 Sustainability Report entitled "The Power of Water" prepared in accordance with the Global Reporting Initiative (GRI) G4 Sustainability Reporting Guidelines' Comprehensive criteria and followed the Electric Utilities Sector Disclosures.